4 MIN READ | GEORGIA SMITH 
why I swapped my coffee for Zolt and never looked back.
TL;DR →More energy, less anxiety. Best-self energy and flow state unlocked.
The older I get, the more of a stickler I am for my wellness routines. Not that I'm uptight about it, but I do notice a big difference in terms of how I feel mentally, emotionally, and physically on mornings when I stick to my routine versus the days when I let it slide. And mornings are everything in setting the tone for my day.
About a year ago, my best-day routine was coffee and then yoga class. Then it was coffee, tincture, and yoga. Then it was meditation, coffee, tincture, and a run. You get the idea — there were basic building blocks that I shuffled around and sometimes made a little extra complicated, but I'd found what worked and that was pretty good. However, I knew there was room for improvement. I still found myself feeling wound-up and on edge, and I still felt like my attention was a bit scattered.
So, a month ago, I cut the coffee (~100mg caffeine) and the tincture altogether and swapped them for Zolt, legitimately delicious, energy-infused plant-powered drink mixes (up to 100mg of caffeine and 10mg guarana).

A month ago, I cut the coffee and the tincture altogether and swapped them for Zolt, legitimately delicious, energy- infused plant-powered drink mixes.
FROM JOE TO WHOA
Zolt didn't have the coffee jitters and helped me feel less stressed
I gotta say, I am 100% here for everything Zolt's CBD is doing — no edginess from coffee, no lingering herbaceousness from tincture, and, best of all, it works so much better than my old tincture ever did. (Full disclosure: I'm not so hardcore that I gave up caffeine, just my morning coffee.) Getting caffeine from green and black teas, as well as organic guarana, feels better for me. And I've found that its adaptogens leave me with an even keel and a more focused headspace.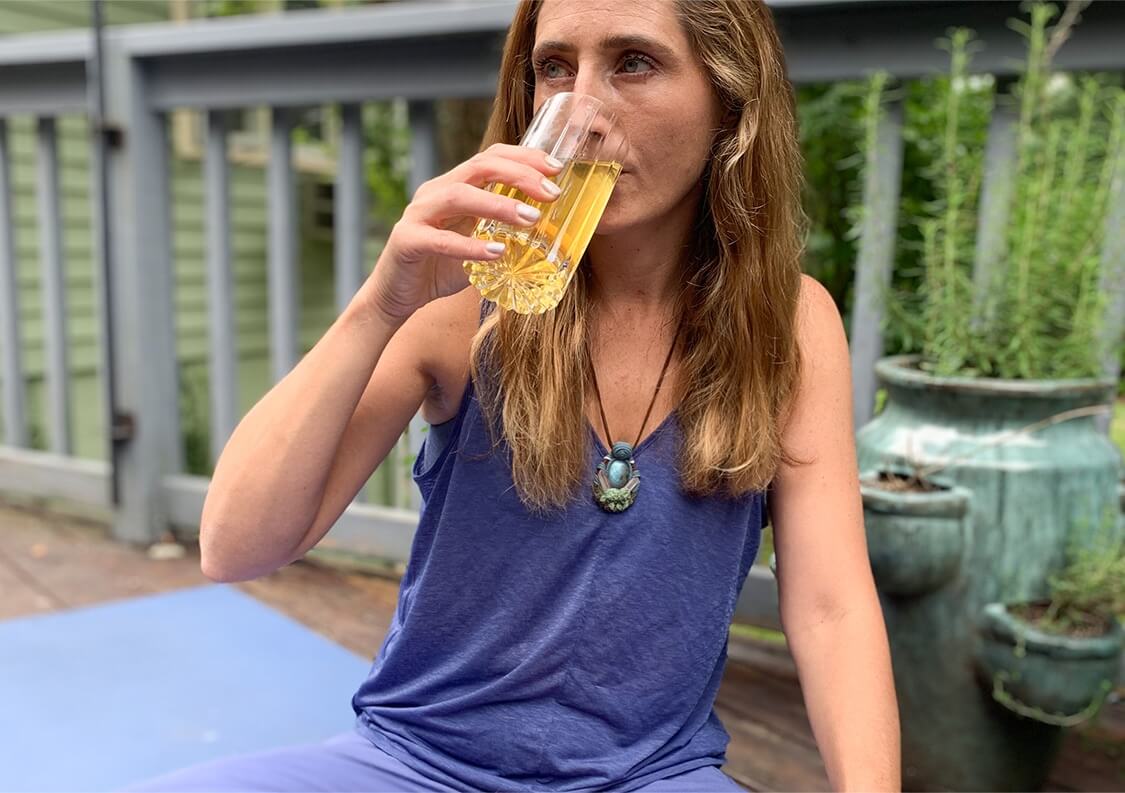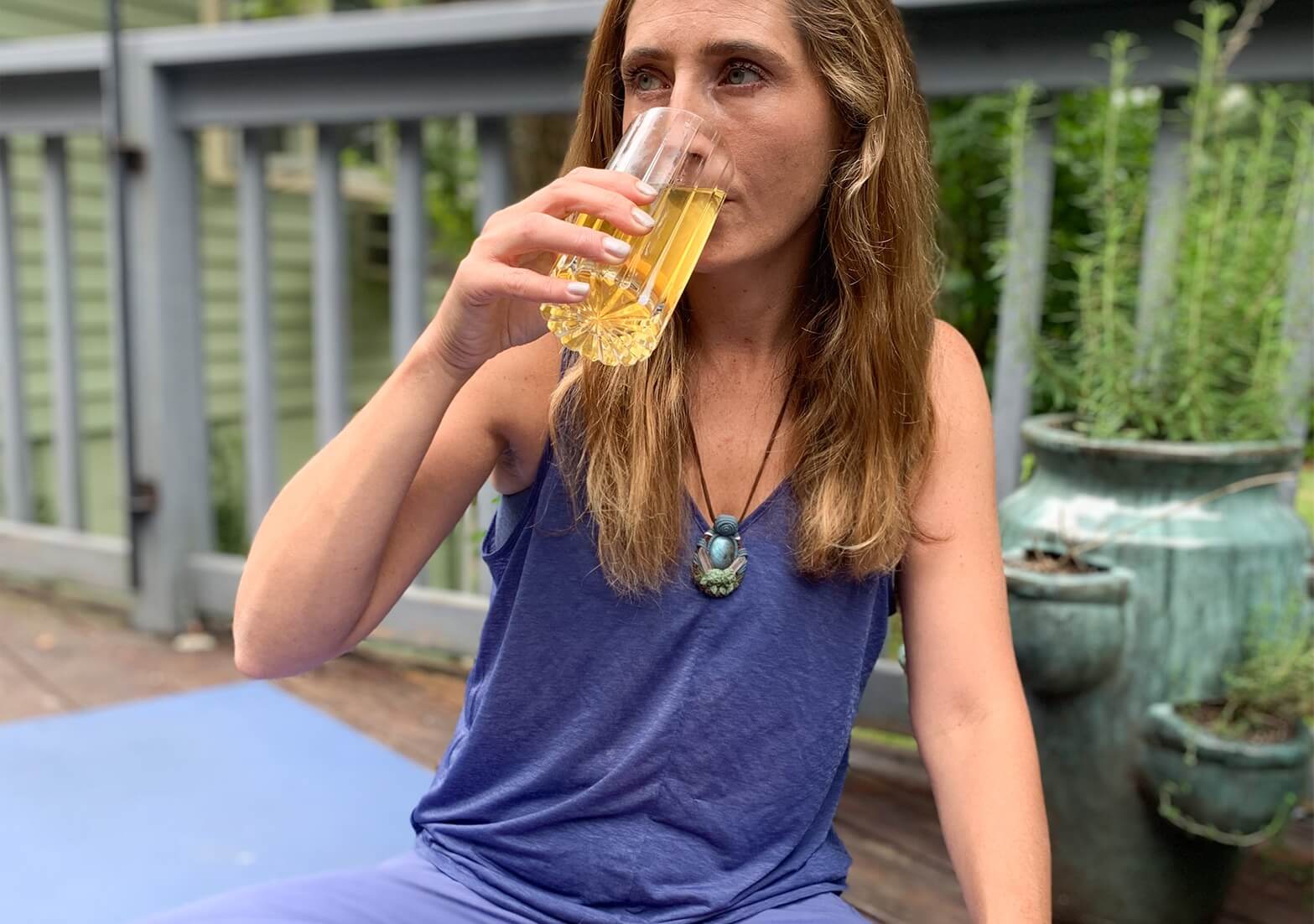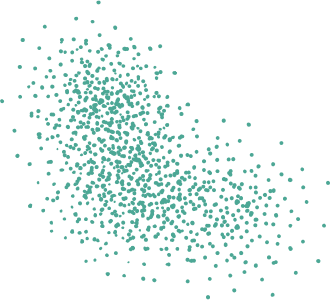 What initially grabbed me about Zolt was that it's extremely bioavailable, which means all the benefits of the antioxidants and adaptogens I value most are even more heightened.

I got into CBD and other hemp formulas about two years ago, using them only occasionally when I was feeling stressed out, then using them daily when I realized they were good for so much more than just beating back my anxiety. I noticed that I recovered faster from tough workouts. I slept better. I was less crabby, less irritable. Best of all, I felt more on my game mentally — I was really cranking at work, but not stressed out by everything on my plate.
What initially grabbed me about Zolt was that its CBD and full-spectrum hemp is extremely bioavailable, especially when compared to that tincture I'd been so gung-ho about. Then I noticed the benefits of its antioxidants and adaptogens, which basically enhanced the effects of the hemp AND provided additional functional benefits. Zolt powder works fast, it works hard, and it actually tastes really good too.
And its bioavailability is a biggie, especially when you compare Zolt with other CBD formats like tinctures and gummies. How much of that is your body going to use, and how much of it is going to waste? With other formats, your body is getting less than half of that. With Zolt, your body is tapping into almost all of it.
Zolt's mixie sticks are perfectly portioned and easy to stash in a pocket to have on-hand to mix up anywhere — usually right in my water bottle.  One thing I especially like is that I can add extra water and ice to make them last longer, or make them with hot water for tea. And they're sweet but not too sweet (sweetened with organic sugar and organic stevia), but also never bitter — and there's never an herbaceous aftertaste (unlike tinctures).

They're perfectly portioned and easy to stash in a pocket to have on hand to mix up anywhere — usually right in my water bottle.
ZOLT'S SECRET SUPERPOWERS
Adaptogens and Antioxidants that boost immunity and detox your body
Organic Astragalus: Systems balancer; combats fatigue
Organic Amla Fruit: Anti-aging and anti-inflammatory; pro cellular health
Green Tea: Improves cognitive function and mood
Organic Guarana: Boosts metabolism, energy, and focus
100% US farm-grown Hemp: Neuroprotector
Organic Reishi: Immunity booster; fights stress and fatigue
Every product is formulated as a unique wellness booster. For example, Rise+ has astragalus, reishi (No lie — the Mushroom of Immortality!), and amla fruit, among other top-performing organic ingredients. Yeah, coffee definitely doesn't pack that punch.
PRODUCT SPOTLIGHT
Zolt's high-energy A-Team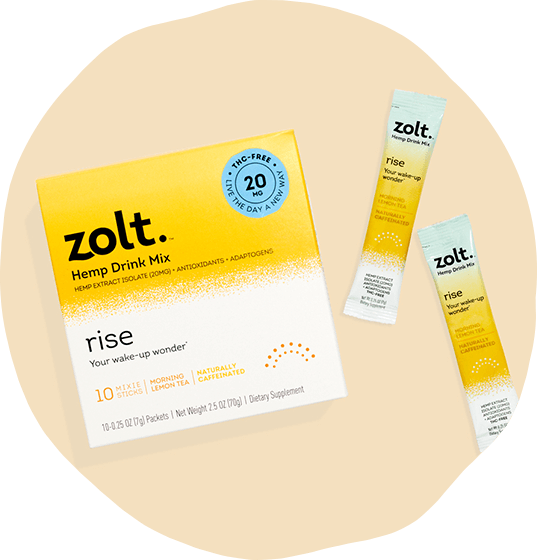 rise
Morning Lemon Tea. It tastes like – yep – lemons and tea. I usually mix it up with cold water and ice, especially if it's hot out and/or I'm in a rush, but it's seriously great mixed with hot water as a tea, especially on chillier days.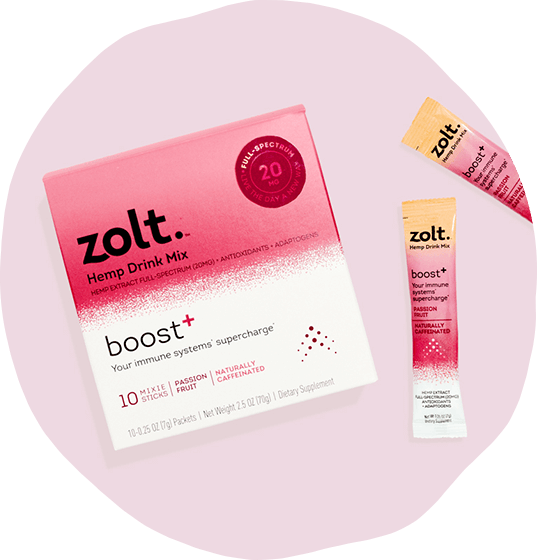 boost+
Passionfruit and dragonfruit flavor fun-fest that puts the pep in my step, powers my immune system, and helps me make the most of every workout (or work…especially if I've got an important meeting). Love this over ice!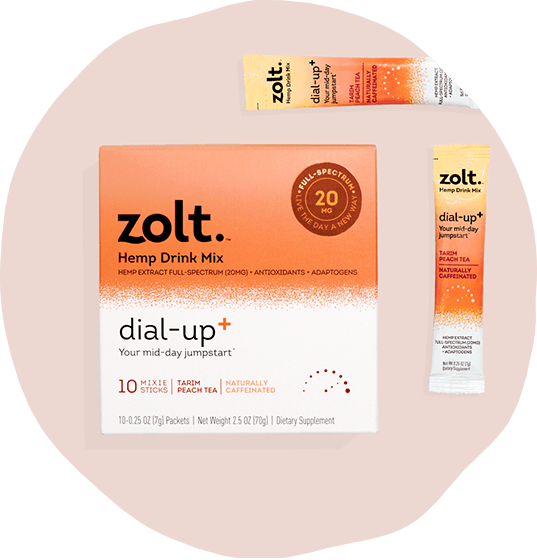 dial-up+
Tarim Peach Tea — my go-to for that post-lunch slouch. It's called Dial-Up+ for a reason — big energy and soft focus, all with those best-self chill vibes. If I've got a big night ahead, it's especially awesome as a mocktail (garnish is everything — especially basil or cinnamon).
COFFEE, TEA, OR…PLANT-POWERED SUPERDRINK?
While I've given up my morning coffee, I'm not such a purist that I won't cave for a latte here and there. But as for that first-thing must-have drink, I'm all about kicking off my day with Zolt — instant rehydration, as well as the physical restoration and mental fine-tuning I get from antioxidants and adaptogens. When I start my day with Zolt, it's pretty much always going to be a great one, no matter whether I drink it hot or cold. I swear it brings out my absolute best self, mentally, physically and emotionally.