3 MIN READ | ARIELLE FANELLI 
living mindfully: our one-on-one with Arielle Fanelli, wellness guru
Our fave celeb yoga instructor (and all-around awesome human), Arielle Fanelli, gets real about new-mom stressors and letting go of frustration to live in the moment
HOW DO YOU DEFINE MINDFULNESS?

My definition of mindfulness is definitely one that is constantly evolving, especially as a new mom.  For me, at this point in my life: mindfulness means taking a deep deliberate breath so I can ground myself and become completely present in whatever moment I am in, and recognizing how truly temporary it all is.  Mindfulness is deliberately putting devices away, letting go of the mental chatter, and being completely present and aware of where I am, what I am doing, and who I am with.

mindfulness means taking a deep deliberate breath so I can ground myself and become completely present
HOW HAS PRACTICING MINDFULNESS ALLOWED YOU TO BE MORE PRESENT AND HELPED BRING MORE POSITIVITY TO YOUR EVERYDAY?
It has been extremely helpful in allowing me to move through motherhood with empathy and gratitude: especially in the moments I feel like screaming or crying.  Instead of getting wrapped up in the frustration or exhaustion, I take a deep breath and I remind myself to hold space for my little guy Luke to feel, that he is just a baby that needs his mama, and it allows me to better respond to him and keep my energy light around whatever is going on.  So instead of screaming or crying, I can soothe and nurture him, which in many ways nurtures myself.  It seems crazy: but it makes me feel less exhausted when I take those moments to breathe and be grateful-especially at 3am when I'm feeding him for like the fourth time LOL.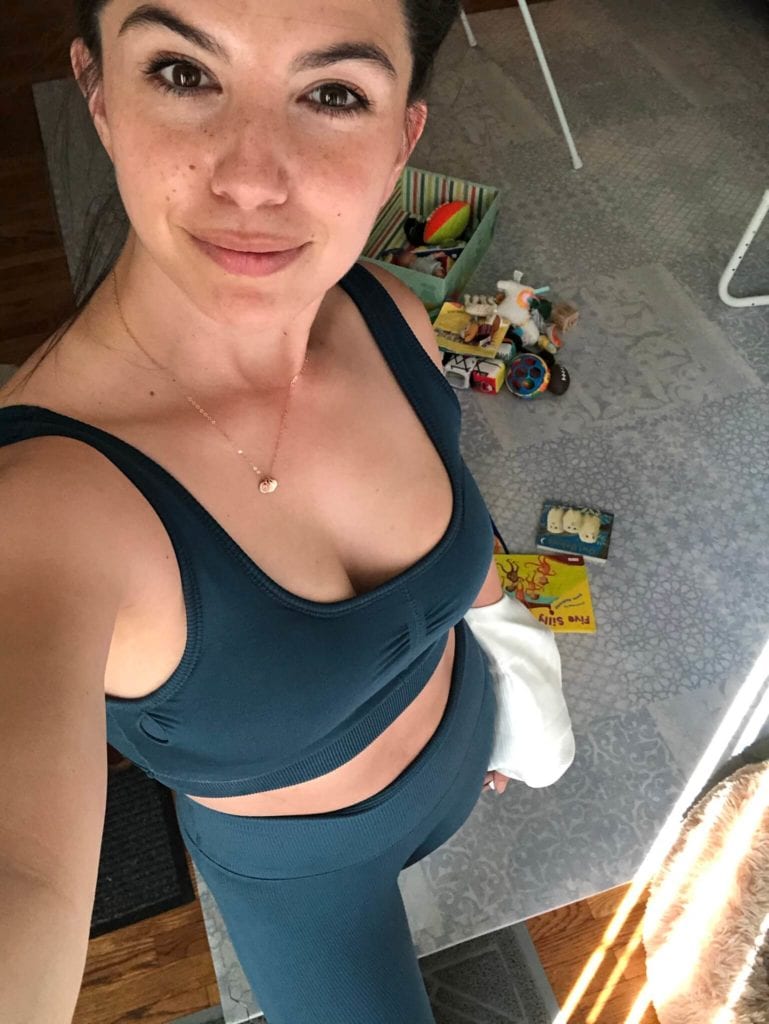 HOW HAS INCORPORATING ZOLT INTO YOUR DAILY REGIMEN HELPED ROUND OUT YOUR WELLNESS ROUTINE?
Starting my days with Peak, and using Well+ in the afternoons has actually helped me feel more like MYSELF again. Which is a TALL order for a new mom during a pandemic who doesn't get sleep.  There isn't much that's "for me" nowadays, so to be able to take a little time to make something for myself that tastes great and helps me remain alert, energetic, and calm for my son has been a game changer.
WHAT ARE A FEW WAYS YOU INCORPORATE MINDFULLNESS INTO YOUR BUSY DAY?
I will be very honest: it's not easy to do things for myself anymore.  Before, teaching my classes was always such a gorgeous time for me to be truly mindful.  Now, the world has changed:  I teach through a screen, and sometimes my personal practice has to be done in short bursts while my son parties in his Jolly Jumper.  I'll often take my deep breath while feeding or reading to Luke-it brings me back into my body and allows me to truly take a moment to relish how beautiful he is, how special it is to be with him, and allows us to connect and engage more deeply.
One little mindfulness moment I savor: My skincare routine! It sounds silly, but taking a few moments to clean and take care of my skin is such a nice quiet time for me to reconnect with and take care of myself.
I also especially love going on a walk in the mornings with Luke, my husband, and our dog.  We don't bring our phones, and I truly take in everything around us — especially since I like to describe everything in detail to Luke.  I take in the way the air feels, the birds that are flying by, greeting other dogs on their walks, and even — quite literally — stop to smell roses along the way.  It's a really nice way for our family to start our day together before the hustle and bustle of work begins.
But all in all, these days, consciously taking that deep and deliberate breath, THAT is my moment of zen.